Complete Story

05/27/2022
May eSource Newsletter - Benefits of Making Safety Training a Priority
Register Today! IMEA 2022 Annual Business Meeting / IMEA 2022 Lineworkers Rodeo
IMEA is pleased to bring you its monthly newsletter. May eSource. This monthly edition includes the following articles:
Benefits of Making Safety Training a Priority
Meeting and Maintaining OSHA Compliance
Taking Control of Safety
Putting Safety into Practice

IMEA Annual Meeting & Vendor Expo: October 11 - 13, 2022 (Blue Chip Casino Hotel & Event Center Michigan City, IN.)

IMEA Annual Lineworkers Rodeo
Please click HERE for the May eSource Newsletter
We hope you find the May eSource valuable to you and your utility staff.
If you have comments or suggestions, please let us know.
Janel Sparks
Member Services & Communications Manager
---
We Need Your Assistance!
Please take time to fill out our survey provided so that we may improve in many facets of education, networking & skillsets during our Annual Meeting & Vendor Expos
Click HERE to Fill Out the Survey!
---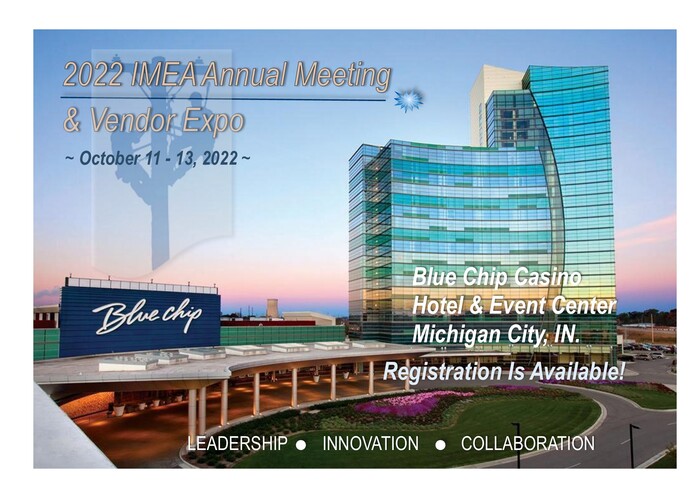 ---
2022 IMEA ANNUAL MEETING
& VENDOR EXPO
The future of Municipals in the Public Power Industry
HAVING REPRESENTATION FROM EACH MUNICIPAL MEMBER OF THE IMEA ORGANIZATION IS IMPERATIVE FOR SUSTAINABILITY AND MEMBER ENGAGEMENT. WE ENCOURAGE YOU TO ATTEND AND UTILIZE THESE OPPORTUNITIES TO IMPROVING YOUR SKILL SET, CREATING BETTER EMPLOYEE COMMUNICATION AND LEARNING ABOUT THE SUCCESSES OF OTHERS AND APPLYING THEM TO YOUR WORKPLACE.
Indiana Municipal Electric Association is pleased to announce the
2022 IMEA Annual Meeting
& Vendor Expo
LOCATION: Blue Chip Casino Hotel & Spa
Michigan City, Indiana.
DATE: OCTOBER 11 - 13, 2022
Come share in networking with your neighboring utilities as well as taking part in our vendor expo offering the best in state-of-the-art products and services!
Registration is LIVE!
Click HERE to Register to Attend!
2022 IMEA Associate Member Welcome Packet
2022 IMEA Annual Member Welcome Packet
WE LOOK FORWARD TO YOUR PARTICIPATION!
Blue Chip Casino & Spa Hotel & Event Center
777 Blue Chip Drive
Michigan City, IN. 46360
(888)879-7711
Group Name: IMEA Annual Conference
Group Code: IM1013G
Arrival Date: 10-Oct-2021
Departure Date: 13-Oct-2021
Hotel Reservation Deadline: September 16th at 11:59pm.
---
2022 IMEA LINEWORKERS RODEO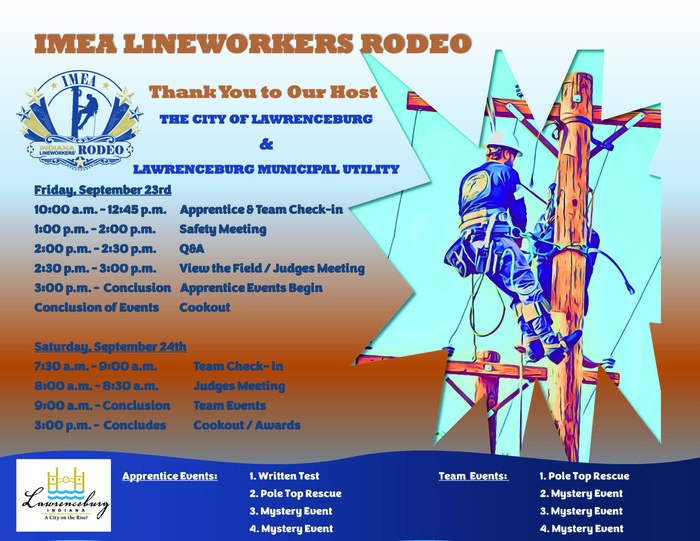 The IMEA Indiana Lineworkers' Rodeo hosted by the City of Lawrenceburg & Lawrenceburg Municipal Utility is the state's most energizing safety and training event. The only one of its kind for public power lineworkers in the state, the interactive, competitive event is designed to showcase the skills and knowledge of a lineworker in a fun and safe environment. The event is open to anyone who is a practicing lineworker in a municipally owned and operated electric utility and/or rural cooperative in Indiana and surrounding states.
The rodeo features two levels of competition: journeyman team, and apprentice. There are four events for apprentices, and four in the team category. Three of the four will be provided as Mystery events with the fourth as Pole Top Rescue. We hope you will join us for our two-day event on Friday, September 23 & Saturday, September 24 with a cookout and awards following the conclusion of the event.
REGISTER TODAY!
Click Here to Register for the Apprentice Entry!
Click Here to Register for the Team Entry!
---
We are here to help and appreciate your membership!
If you experience difficulty accessing the new website, please delete your browsing history and/or cache. If you are having other technical difficulties or have suggestions on ways that we can improve our web site or service to members, please contact us at imeainfo@imea.com.